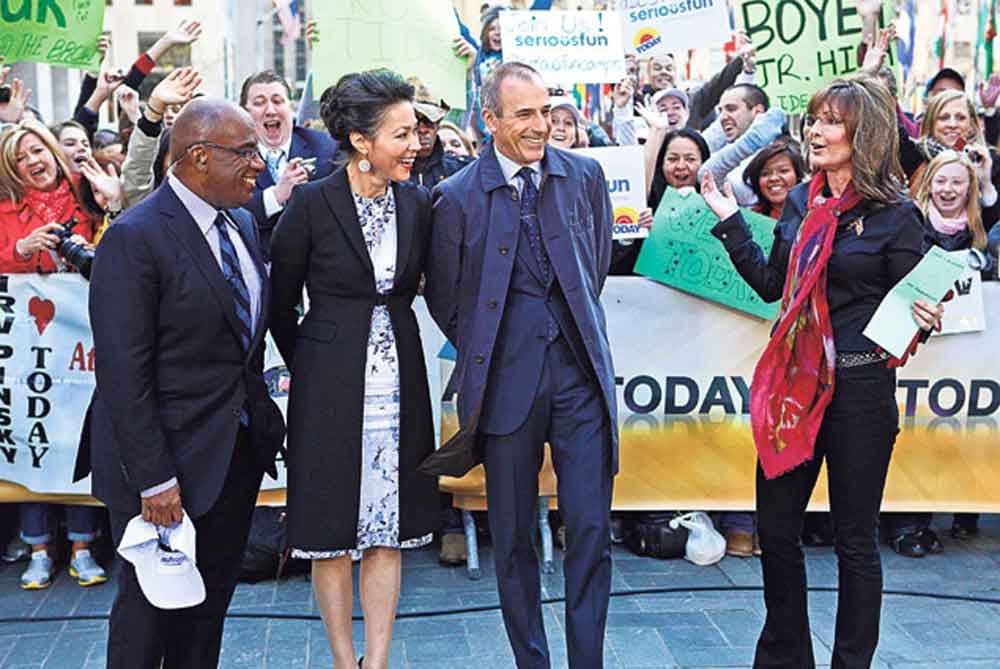 On Monday, my friend Polly informed me, via Facebook wall post, that Sarah Palin would be co-hosting the Today Show the following morning.
On Tuesday, I woke up feeling conflicted. I didn't want to watch. I wanted to wish it into the cornfield. Palin is a polarizing figure, and she has polarized the very crap out of me.  But a voice inside my head tried to convince me otherwise. "Do it so you know what's going on in the world," it said. "Be a part of the zeitgeist, as it were."  (My inner voice can be super pretentious.)
Rather than commit, I instead took to Twitter to see what people were saying on the matter. I followed a link to the Huffington Post, where an east coast blogger was already offering a full review.
I then closed my computer and made valiant efforts to go back to sleep. Let's do this, eye mask.  I laid on my stomach.  Switched to my back.  Tried acupressure relaxation points on my palm. Not happening.  Surrender soon followed.  I sat up in bed and hit the power button on my remote.
Here, for your entertainment pleasure, is a brief catalog of my experience:
8:45 a.m.:  Jackpot.  Ann Curry, Sarah Palin, a Today Showcontributing psychologist, and a woman who looks like that actress Kristen Bell are sitting around on high chairs.  The woman has written a book about the secret life of teenage girls (or something).  All parties are discussing how to help young girls develop better self-esteem. Sort of an out of body experience. Watching but not hearing. Then, mentally slapping myself, I am brought back into the present moment.  Sarah is struggling, in her usual fashion, to tackle a sentence back to its meaning. Her essential message is sound: reality TV should focus more on good role models. (She doesn't say that, but this is what she means.)  Ann interrupts and tries to distill Sarah's rambling down to its essence. Sarah then states that parents shouldn't make the mistake of thinking that they need to be friends with their children.  Children, she says, want boundaries. Everyone is in agreement, everyone wants girls to feel better about themselves. Ann has to interrupt the conversation to cut to commercial, but the ladies keep chatting.  Ann tries again, thanking everyone, and then feels the need to say, "You did a great job, Sarah Palin." I want Ann to turn to the camera and say, "You're doing great too, Rachel Pollon."
8:50 a.m.: Commericals end. Wilson Phillips suddenly appears. There to sing, presumably. Why, I wonder. Only Ann is there with them.  Does Sarah Palin hate Wilson Phillips?  It occurs to me, fleetingly, that tons of ladies will want to know who makes the skinny Wilson's dress so they can buy it immediately.
8:52 a.m.: Oh my god, why did Wilson Phillips decide to do "California Dreaming"?  First off, if you're going to cover a song like that, make it super different.  Rock it out.  Don't try to harmonize. You won't win! Who can harmonize that song better than the original? No one. Queens of the Stone Age should cover it and that's it. Secondly, does Chynna Phillips not believe her half-sister's claims of incest by their father? Otherwise, even if you did love your father, and have a good, non-incestuous relationship with him, wouldn't you find his music a little tainted? Move on. Cover someone else at the very least. A little distance is good. Across the board. In any situation.
8:56 a.m.: Sarah shows up after the performance. She seems to really love Wilson Phillips. Ann mentions, (then indicates with a brief dance move) that Sarah was dancing on the sidelines while they were singing. Matt Lauer now arrives onscreen and confesses to the ladies that for his entire life he thought the lyrics were, "I got down on my knees and began to pray…", as opposed to "pretend to pray." Matt's mind is blown by Wilson Phillips. Maybe covering that song was a worthy endeavor. Barely audible, in the midst of the gaggle of complements, you can hear Sarah say, "Either way… they're praying."
8:57 a.m.:  I don't understand why Ann Curry feels she has to encourage and validate Sarah during each segment. Wait, yes, I do. Vintage Ann. She's a caretaker. You can see her trying to lasso this episode back home safely to the ranch, thanking each Wilson and the lone Phillips, telling them, and Sarah, that they did a great job. I'm holding on tight, but I can feel it, we're going to stop for water soon. And then off to commercial we go.
8:58 a.m.:  There is a promo for Ryan Seacrest's appearance the next day.
Sidebar:  There was some hubbub on Twitter via Deadline Hollywoodregarding Ryan Seacrest (rumored to be taking over for Matt at some point in the future).  Seacrest was set to appear on The Today Show this same day to make a big announcement, but postponed his appearance due to "recent elbow surgery that needed to heal further." He would instead be appearing on the show Wednesday. (What a difference a day makes.) My instincts tell me either he (and his people), or the brass at NBC, or both, realized that competing with the Palin appearance would not be in Seacrest's best interests.  Maybe his elbow really did hurt though.
9:00 a.m.:  Anchors on the plaza. A brisk but sunny day. Ann is wearing a refined trench-like coat over her dress, and Sarah is now donning a magenta scarf.  It must be noted that she has a really good figure. I should run more. Sarah is readying herself to say goodbye. Al jokingly invites her to stay for some hamachi that they will be preparing in a cooking segment later in the hour. Matt asks her how she enjoyed her time with the "mainstream media." You can hear the quotes around it as he says it. He's zinging her respectfully. Her response: "I always say, if everything's under control, you're going too slow." (A quote she then remembers to attribute to racecar legend Mario Andretti.) She finishes by saying it was "great" and they are all "awesome." Before letting her go Matt prompts Sarah to tell them about her outfit. She makes a joke: "Yeah, I wasn't going to go all Johnny Cash on ya today…" (She's wearing black pants and a tight black jacket.)  It was, she says, a last-minute change.  The night before, while watching clips of her past Today Show appearances, she realized that she'd already worn the outfit she had planned on wearing:  a pink consignment store blazer. Ann announces what is coming in the next hour and they pass the show on to Savannah Guthrie at the news desk. I am at my kitchen table, thinking about smoking a doobie.
9:02 a.m.: I did it!  I conquered my fear and persevered!  I can do anything!  I wonder if Tony Robbins will start showing this clip at his empowerment retreats.
Addendum:  It was speculated that NBC booked Governor Palin in order to compete with Katie Couric, who is co-hosting ABC's Good Morning America this week. It seems like something the evil popular girl at high school would think up.  And it may have worked.  People were indeed abuzz. I can't help but wonder if the anchors on FOX & Friends would be as gracious if Howard Dean were brought in to share their couch. Would Steve Doocy allow Governor Dean to tell a funny story about his cufflinks?  One can only hope. If this should ever come to pass, and Polly gives me a heads up, I'll be glad to watch the last fifteen minutes of that, too. Because I am strong and can bear witness to psychological tension without internalizing it.  And because Gretchen Carlson might be wearing a cute sweater that would look really good on me.